Stars and Stripes Celebration
Desire Resort & Spa - Los Cabos
San José Del Cabo, MX
Jul 4th, 2012 to Jul 8th, 2012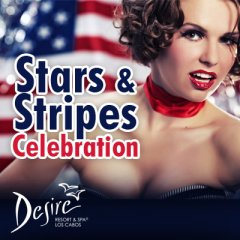 This is America's greatest day, and there's only one place to celebrate... Desire Resort & Spa Los Cabos. This time, enjoy your freedom the way it was intended, with the most sensual fun of our Stars & Stripes party!
Come with your partner and experience a new style to enjoy this traditional holiday. A long weekend at Desire that will seduce your senses, not only with a special BBQ, and succulent, gourmet dinners, but also with our engaging games and sensual music. Everything to free you of your inhibitions and invite you to surrender to your strongest desires.
Wednesday 4th
- Best decorated balcony + The most creative Independence Day costume contest!
Thursday 5th
- Live DJ + Tequila tasting.
Friday 6th
- Toga Party + Male pole dance competition.
Saturday 7th
- Dress in sheer lingerie for our fashion show and sarong fashion show!
Sunday 8th
- Cocktail stunts + Jacuzzi Lounge Party with fire performers.
This group is SOLD OUT. Please contact us for waitlist options.