Stars and Strips Party
Temptation Resort Cancun
Cancun, MX
Jul 3rd, 2013 to Jul 7th, 2013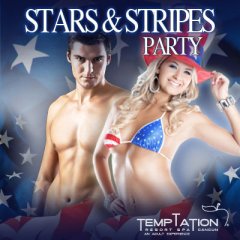 And the story continues... The annual Stars & Stripes bash gets better every year and 2013 will blow your mind away. Celebrate this Independence Day with old and new friends here at Temptation Resort Spa Cancun, the place where the party never ends and you can expect to experience much more than fireworks!
This year, make it count, come to our adults only resort from July 4th the 7th, join us in our Pool Party, delight your palate with the most tempting barbecue, and dance the day away to the sensual rhythms of our Rock Band and Resident DJ. Remember that the fun will not stop there, and you will have the opportunity to enjoy our Stars & Stripes Booze Cruise, Chocolate Game, our American Hero contest and many more Temptation moments like these.
Thursday 4th:
Belly flop contest (USA vs rest of the world) Independence pool party + Stars and Stripes booze cruise!.
Friday 5th:
Chocolate game contest + Baccanal party.
Saturday 6th:
Sweet dreams pool party.
Sunday 7th:
American hero contest.
This group is SOLD OUT. Please contact us for waitlist options.