Lab Sparkeing Weekend
Desire Resort & Spa - Riviera Maya
Cancun, MX
Aug 28th, 2014 to Sep 2nd, 2014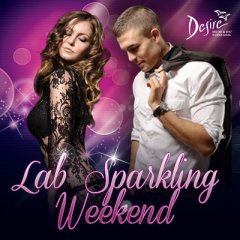 If you didn't have time to relax this Summer as it should be? We're bringing our first Lab Sparkling Weekend to Desire Resort & Spa Riviera Maya so that you can come with your lover and experience a new way to spend this time away from work.
Tan and play on our amazing beach while our spa specials and relaxing activities program will get you in the perfect mood for a sensual rendezvous with your partner at the Jacuzzi Lounge Bar.
Fall in love with each other in a romantic dinner at our Sahlo aphrodisiac restaurant and get ready for the sensual environment of our Melange Bar where you can enjoy refreshing drinks, participate in our fun contests and games, dance to the sexy beats of our DJs and live bands... In short, party like never before. These will be stress-free days and nights that will leave you refreshed and rejuvenated.
Our great Playboy Party and Desire University, part of our Sexy, Young and Wild event is how Labor day becomes the most sensual party weekend of all and you won't want to miss it!
This group is SOLD OUT. Please contact us for waitlist options.