Uncensored Labor Day Weekend Party
Desire Pearl Resort - Puerto Morelos
Riviera Maya, MX
Aug 29th, 2014 to Sep 2nd, 2014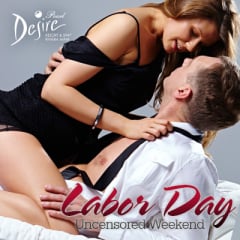 Welcome to Desire Pearl Resort & Spa for the most relaxing and sensual weekend of a lifetime. That's right, this year, we are inviting you to say goodbye to come to take your days away from work to another level while you let go of all worries and inhibitions in our uncensored parties... the last days of our Sexy, Young and Wild event!
Starting with our deliciously erotic Foam Party in the beachfront pool, have a blast, dancing to the fun, sensual music our guest DJ will be playing live for your delight and be seduced by the spicy, unique atmosphere that is only found at our Desire Pearl.
Then, take part of a Body Paint Contest and get ready for our Neon Beach Party where you will be showing as much skin as possible, wearing a sexy beach attire or nothing if you so prefer. And that will be just the beginning of a weekend full of sensuality and wild fun. Rest assured the days and nights that follow with our Arabian Pleasures, Sexy Kings and Queens Nights plus our sensual games will make all your fantasies come true.
This group is SOLD OUT. Please contact us for waitlist options.