Temptation's Love Parade
Temptation Resort Cancun
Cancun, MX
Feb 12th, 2015 to Feb 15th, 2015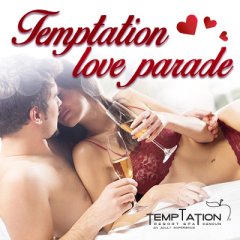 Love is in the air… But, what about Temptation? We know we are impossible to forget, because there's no love without seduction, desire, passion, and of course Temptation Resort Spa Cancun.
That's why from February 12th to 15th, we want you to be part of the one and only Temptation Love Parade, and discover in this sexy and romantic event if you and your mate are the perfect couple with all the games, contests and events we designed specifically for this special day There's no better place to live this charming date than Temptation Spa Resort, because no one knows how to celebrate love like us.
Thursday 12th
Foam party + Fashion show & LIngerie casino
Friday 13th
Baccanal party
Saturday 14th
Sweet dreams pool party
Sunday 15th
How well you know your mate contest + Anything goes
This group is SOLD OUT. Please contact us for waitlist options.