Valentine's Yoga Week
Hedonism II
Negril, JM
Feb 8th, 2015 to Feb 15th, 2015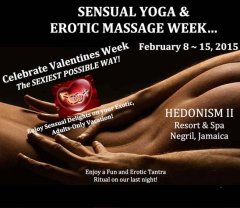 Nancy and Mark return for their 10th year teaching Valentine's Sensual Yoga & Erotic Massage Classes! They bring you an interesting blend of East- West - with a splash of Sexy Hedo Style. You will enjoy the art of sensual awakening through a fun and partnered yoga practice - along with classes focusing on sensual erotic touch and communication. They share their magical 28 year journey with you to inspire your designer relationships, as well as add extra spice to what is already great for you. No prior Yoga Experience is required to fully participate and enjoy this journey.
Nancy and Mark, both health professionals (RN & MD) are also certified Yoga Therapists - they are fully equipped to help you with any special physical limitation you may have in order to fully enjoy this couples practice of fun, eroticism and deepening the heart connection.
This group is SOLD OUT. Please contact us for waitlist options.