The Black Tape Project
Desire Resort & Spa - Riviera Maya
Cancun, MX
Mar 21st, 2016 to Mar 27th, 2016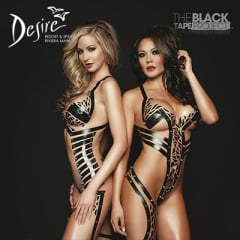 Prepare to be mesmerized this March at Desire Resort Riviera Maya, as the boundaries of creative fashion are pushed to the outer-limits with the new BTP Evolution. BTP Evolution is an exclusive fashion experiment that creatively displays the sensual nature of the human form, as it vacillates between art and seduction. BTP Evolution designs have been widely acclaimed for their diverse range of themes. Inspirations evolve from skin to gothic angel to animalistic goddess.
Enjoy BTP for the first time ever, at Desire Resort Riviera Maya! You will have the opportunity to participate in workshops to learn more about this sensual revolution, and witness spectacular shows where you will see the creation of the BTP suit before your eyes.
Find out why this revolutionary artistic movement is captivating audiences around the globe! What are you waiting for, book now!
March 21st - 27th - Black Tape Workshops & Shows, Participation of Professional Models (Hustler, Playboy and Maxim)
Dress Code:
Black & Colored Electrical Tape
This group is SOLD OUT. Please contact us for waitlist options.