Climax: Say hi® to the Big O
Hedonism II
Negril, JM
Oct 17th, 2016 to Oct 22nd, 2016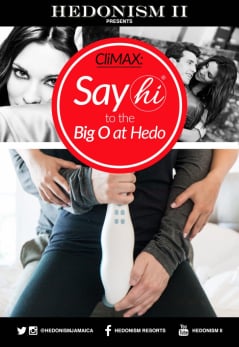 Want to be part of a new Sensual and Sexual Revolution for Women? You don't want to miss this history making event!
Ladies, would you like to be able to have an amazing fully body massage, and experience multiple orgasms - while fully clothed? Men, you're about to discover a new technology that will make your partner swear you have "super powers". So guys, why would you want to do this? Just wait to see how the women react. You really won't believe it till you experience it, so make sure to take your vitamins. This will revolutionize your relationship, and imagine how popular you'll be at parties with your friends.
Hedonism II, is proud to announce it is the first and only resort in the world to be certified to train women and couples on how to use hi® massage systems, a revolutionary technology designed to enhance female wellness, intimacy, and relationships. Starting October 17th through its spa, Hedonism II will offer classes where guests can learn to properly use the device, which not only helps relieve stress, but also allows women to rapidly achieve orgasm on their own or with a partner. Guests will be taught to use hi® to stimulate pressure points in a specific pattern that will completely relax women and bring them to climax even when fully clothed. Daily "introduction to hi®" classes will be available free for guests. More advanced programs are also offered. Plus there will be daily games, events and contest that you couldn't imagine in your wildest dreams. The 1st Annual "O" Games - promises to be an orgasmic explosion on the stage. Men - you'll need to train hard to compete in the final contest. But we guarantee you'll love the training exercises.
To celebrate this launch of a new revolution, the inventor of the technology, Dr. Steve McGough & his Wife Dr. Wendy McGough will be here for advanced training. Sexologist and other relationship professionals will also be present receiving advanced training.
Of course women will be needed to volunteer for massages. Steve holds multiple US/International patents on this revolutionary technology. He is also an associate professor of Clinical Sexology at the Institute for Advanced Study of Human Sexuality.
This group is SOLD OUT. Please contact us for waitlist options.