Tryst 2023 Resort Takeover
Temptation Resort Cancun
Cancun, MX
Apr 25th, 2023 to Apr 30th, 2023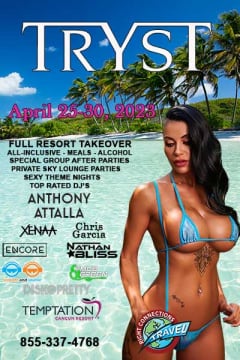 Tryst 2023 Temptation Takeover with all the desirous thrill that is a complete resort takeover. This event offers the uber-sexy party that you have been thriving for. As the Production Crew always brings over the top entertainment and activities. No one else in the industry compares. Experience the one and only 21+ Temptation Resort. This is an all-inclusive event with private group parties at the 7th floor "Sky 3.5 Lounge", day and night time pool parties, risqué room crawls, erotic group theme nights, and provocative mixers all in a topless optional environment.
Tryst caters to open minded couples and single females in the Lifestyle who are ready to party "Tryst" style. What is "Tryst"? Tryst is a gathering ground for Lifestyle pleasure seekers. Welcome to the perfect utopia of sultry, erotic adventure set on the Caribbean. Tryst will premiere headline DJ's spinning day & night, daytime pool parties, erotic group theme nights, and untamed after parties designed to inspire new fantasies and encourage your desires and carnal urges. Surround yourself with unbridled passion and amp up your own sexual personality. Tryst will be the ultimate rendezvous to flourish, mix, mingle, and erect some epic & unforgettable memories. For 2023, we are, once again, taking over every room and suite in the Temptation Tower, including Bash, Lush, Master Suites, & Penthouses, plus additional rooms in other areas of the resort.
This premier event is a total takeover done as only Tryst can do. Since no Tryst experience is complete without the hottest music there will be sets by special guests DJ's.
A full Temptation Takeover of every room and suite. All 306 rooms plus other rooms across the resort as well. We are naming it the
Tryst Takeover
for our week. As we will be hosting pre-party mixers, bar crawls, room crawls, after parties in Score's Bar and much more. Every room in the tower will be part of our group. So, no guessing who is and who is not in our group.
Special private group mixers.
Headline DJ's: TBA.
Two Private high energy group parties in the Sky 3.5 Bar and Lounge. Plus, our DJ's spinning at Club Bash and the big Sexy pool as well.
Erotic Dirty Disco party style Group Theme Nights- T.B.A. soon
Special SWAG for our group trip guests. So let your hair down, set your inhibitions aside and join a very sexy group from across the U.S. and Canada for a sexy fun week in the Caribbean.
Option #6
$ 624.00
Trendy Garden View
04/25/2023
$ 624.00
Trendy Garden View
04/26/2023
$ 624.00
Trendy Garden View
04/27/2023
$ 624.00
Trendy Garden View
04/28/2023
$ 624.00
Trendy Garden View
04/29/2023
$ 98.00
Ground Transfers - Airport->Resort->Airport
$ 0.00
Payment Due: Balance Due at time of booking
03/06/2023
$ 3218.00
Total
** Balance Due at time of booking.
Rates Based on 1 Room(s), occupied by 2 adult(s) in US Dollars.