Group Travel Dates
N to N
(N days / N nights)
Hidden Beach Resort
Au Naturel Club
Enter Hidden Beach Resort Au Naturel Club, a quality, all-inclusive adults only nudist resort for both singles and couples. Its setting, location and architecture were created to provide worry-free nude vacationing. A nudist could literally spend a week at this property without having to put on a single piece of clothing once. That's because the 42-room beachfront resort is totally secluded and private, prohibiting entrance to anyone but the resort guests and staff.
You now have an all inclusive, self contained, clothing-optional resort in Mexico for adult singles and couples, where you can go nude ALL the time if you want to. This includes your suite, all common areas, swimming pool, the beach, sports bar, disco and fine dining restaurant, too. In actual practice, most guests enjoy the daytime nude around the pool and beach while night time finds most guests clothed for dinner and dancing.
Besides the public areas around the pool, beach and Jacuzzi, the resort offers nude dining at the all-inclusive restaurant and terrace outside around the pool, nude bars as well as a nude disco. Most guests dress for dinner, however. The private beach is perfect for nude sunbathing and a variety of beach activities and fun. The property features one main pool which is connected by an artificial river accessible by all first floor swim-up suites. The central area of the pool contains a large swim-up bar. Following the needs of nudist vacations, towels are available throughout the property for the convenience of its guests.
Hidden Beach Resort Au Naturel Club was created for guests who have nothing to hide. Both singles and couples are welcome for overnight visits and longer, of course. Day or night passes are restricted to couples only. For singles to visit the resort, overnight accommodations must be purchased. Guests from El Dorado must purchase a day or night pass and cannot enter Hidden Beach unannounced.
Hidden Beach has a liberal policy about being nude all the time or wearing clothes or swim suits. We have found as a result of many visits there, most all the guests are nude during the day for sunning and dining at breakfast/lunch. A few women may wear bikini bottoms for the time of the month. Some guests wear cover ups for a pool side snack at the restaurant during the day; some do not. In the evening, it depends on the crowd or group there: Some dress for dinner, others do not. And, since you have visitation rights at El Dorado, you will find some guests elect to be fully dressed to visit the five other restaurants next door. Clothing and swim suits are required at El Dorado Seaside Suites.
Rooms & Suites
Check into your suite, fling off your clothes, pop the cork on the bottle of sparkling wine awaiting on ice and take in the view of the Caribbean. Later you can draw a bubble bath in the Jacuzzi for two, order up something indulgent to eat from the 24-hour room service menu, and mix up cocktails from the top-brand alcohol featured on the mini bar. Watch a DVD and luxuriate in the Egyptian cotton sheets with loads of pillows on the king-size bed featuring a double pillow-top mattress.
If you choose a first-floor swim-up suite, you'll have the pool-river right at the edge of your terrace with your own in-water cocktail table. You can swim up the river to the main pool. For ultimate sea views, go for a third-floor Oceanfront Dome Suite with a higher ceiling and huge windows.
.
All Suites Feature:
King-size bed with double pillow-top mattress and Egyptian cotton sheets
Jacuzzi for two with bubble bath
Mini bar with beer, water and soft drinks restocked daily
Scotch whisky, vodka, tequila and rum
24-hour room service
Air conditioning and ceiling fans
iPod docking station
42-inch plasma television with satellite service and DVD player
Bottle of sparkling wine
Wireless Internet service
Plush bathrobes and slippers
Bed pillow menu
Safe deposit box
Coffee maker
Direct dial telephone
Hair dryer
Ocean Front Suites
---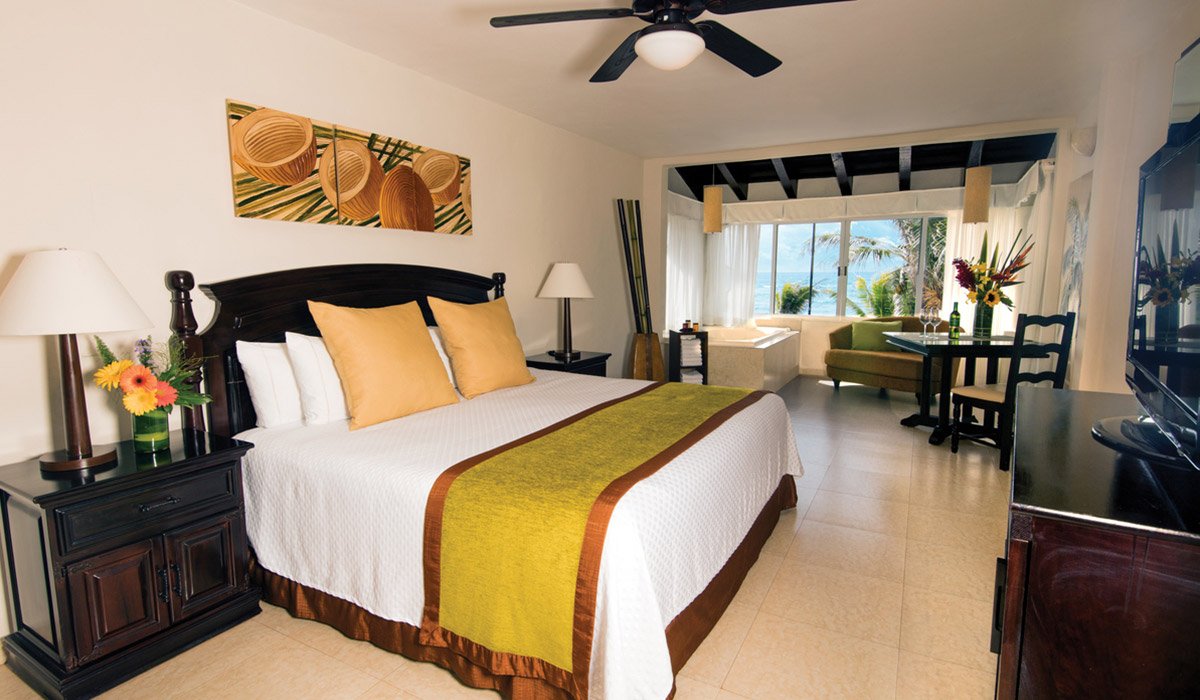 In 2 two-story buildings with a fresh and soft Mexican Hacienda architecture and located on the second floor.
Ocean Front Swim-up Suite
---
Located on the ground floor, ocean front, with direct access to the pool's lazy river from the patio. Each one is featuring an in-pool seating area and cocktail table.
Ocean Front Dome Suite
---
Our Oceanfront Dome Suite offers you romance and intimacy, with all the amenities. Featuring a walk-in shower, soaring ceilings in the shape of a dome, a king size bed with double Jacuzzi and living area, and stunning views of the Caribbean. Also included in these brand new suites is a plasma TV with DVD player, a liquor cabinet, and double sinks in the spacious bathroom.
Dining
Beautiful presentation, themed dinners and alfresco lunches make the food memorable. At the Hidden Beach Resort, our goal is to make dining memorable with indulgent food, creative presentation, attentive service and great ambience. This is the Gourmet Cuisine concept. Please note that our Food and Beverage outlets are "Clothing Optional".
La Vista Restaurant

La Vista Restaurant offers Gourmet Inclusive

®

breakfast, lunch and dinner service daily with extensive à la carte menus. Menu options vary daily. The restaurant can also cater to special dietary needs and requests.

Continental Breakfast: 6:00 AM - 7:00 AM
Breakfast: 7:00 AM – 10:00 AM
Lunch: 12:00 PM - 3:00 PM
Gourmet Bites: 6:00 PM - 10:00 PM
Dinner: 6:00 PM - 10:00 PM

D'est La Via Swim-Up Bar

Whether relaxing by the pool or taking part in water activities, our swim-up bar is always close by for a refreshing drink or exoctic cocktails.

Open: 10:00 am - 10:00 pm
Amenities
This list of luxurious details, services and amenities shows we've thought of everything! Hidden Beach Resort is designed specifically for nudists, and is equipped for privacy, comfort and convenience with luxurious touches and attentive service.
What's Included:
Resort Facilities:

Beachfront, freeform swimming pool with swim-up bar and in-pool lounge chairs
River-type pool connecting first-floor suites with main pool
Giant beachfront hot tub
Thatched-roof Sky Palapas on the beach
King-size Bali beach beds for two
New rooftop sunning deck
Restaurant, two bars, disco
New air-conditioned fitness center

In Your Suite:

In-suite Jacuzzi for two with bubble bath
King-size bed with pillow-top mattress and Egyptian cotton linens
Air-conditioning and ceiling fans
iPod docking station
42-inch plasma television with satellite service, DVD player
Coffee maker
Safety Deposit Box
Bed pillow menu
Hair dryer

Luxury Services:

Welcome Cocktail of the Day at check-in
Waiter service at the beach and pool
Bottle of sparkling wine upon arrival
Concierge service
Nightly turndown service with chocolates
Plush bathrobes, slippers

Gourmet Cuisine:

All meals, Gourmet bites and beverages
Premium brand alcoholic drinks and cocktails
House wine from Spain
24-hour room service
Beer, soft drinks and bottled water in suite mini bar
Alcohol selection in suite – rum, tequila, vodka and Scotch whisky
Get-together dinner
Themed dinner events

Day/Night Activities:

Daily group activities
Night entertainment show
Evening theme parties
Hot tubbing
Morning yoga
Beach/pool volleyball
Water aerobics
Pool table
Darts
Ping pong table
Giant chess game
Giant checkers game

More Included You'll Appreciate:

Free wireless Internet service in the suites, pool area, rooftop deck and bars
Computer in the lobby to check email
DVD movie library in the lobby
24-hour security guard
Daily housekeeping service
Taxes and gratuities
Water purification system
Plus unlimited, free access to facilities at neighboring El Dorado Seaside Suites (clothing required): three swimming pools, six restaurants, six bars, group activities, kayaks, snorkeling, beach volleyball, scuba diving demo, tennis and more.

What's Extra:

Airfare
Transfers to/from the airport
International wine selection from our wine cellar
Massages
Nude cruise
Regional tours
Shuttle to golf courses
Private dining on the beach or in your suite
Telephone/fax service
Scuba diving courses, trips, equipment
Laundry service
Car rental
Spa treatments at the Nâay Spa
Money exchange
24-hour on-call medical services
Note: All information contained in this document is subject to change without prior notice.
Activities
Fun times await under the Caribbean sun.
You'll thoroughly enjoy your time at Hidden Beach Resort, whether you want to get active in the sun or simply relax.
There's a full schedule of group activities planned each day, free of charge. There are friendly competitions such as guessing games, beer pong, crazy trivia; classes like cooking and cocktail mixing; and fun activities like body painting.
You can also play giant chess or checkers, darts, ping pong or shoot a game of pool. The new air-conditioned fitness center allows you to keep in shape and work off those decadent desserts. Morning yoga limbers you up for the day.
If it's relaxation you seek, choose the king-size Bali beds or Sky Palapas on the beach, or a lounger right in the pool or on the rooftop. Beach/pool waiters serve you chilled drinks. And what could be more relaxing than a massage on the beach?
You have plenty of activity and water sports options at the all-inclusive resort next door, El Dorado Seaside Suites however, clothing is required. The off-site tours in the region provide further variety – the Nude Cruise is the most popular.
Under the Moon
In the evenings after leisurely meals, don't miss the nightly entertainment show of music and dance. Afterwards there's a party with a different theme each night
You can also sample mojitos or martinis, enjoy yourself on the dance floor, hop in and out of the giant hot tub, or shoot a game of pool. The action is all centrally located at the Moonlight Lounge.
If you're in the mood for a quieter evening, what could top a moonlight massage for two on the beach lit by flaming tiki torches? You can ponder the stars from the rooftop deck or gaze at the moonlit sea from a Sky Palapa. Or grab a DVD to watch in your suite, draw a bubble bath for two in your Jacuzzi, and order a great bottle of wine and gourmet nibbles from room service.
You can head next door to El Dorado Seaside Suites to check out the bars and disco ambiance there. For a cultural evening, take a folkloric evening show at Xcaret, the Caribbean Ballet or Caribbean Carnival.