Welcome to Desire Resort & Spa - Cancun, Mexico
Desire Resort in Cancun, Mexico is an all-inclusive resort set on the exquisite white sand beach of the Riviera Maya Cancun, Mexico. Arranged to resemble a pastoral village, 11- villas and suites, many with oceanview, blend into the lush, tropical gardens of the couples-only escape from routine. Enjoy a sense of freedom like no other on earth as you stroll along the beach or immerse your total being into the beautiful warm waters of the Caribbean.
The "All-Inclusive" program at Desire Resort & Spa, offers a selection of restaurants, bars, lounges, disco, gym and spa. You will find a wide variety of activities, entertainment, land and water sports ... all designed around the utmost in personalized service. In addition, we offer au natural areas in the beach or in the new Jacuzzi Lounge which offers wet and dry bar plus cozy seating and languorous sunning areas with a Jacuzzi that accommodates up to 30 people.
Desire Resort Cancun offers adventurous couples a destination of peace and tranquility, the opportunity to be nearly alone on beautiful beaches with your special person, or be part of the party at the main pool area. It is really the best of both worlds. You can choose to have that truly romantic, erotic vacation at a destination to share in private, or you can let loose and expand your sexuality with other like-minded couples from all over the world.
There are many adult destinations you can plan your special erotic vacation time to with your loved one, but none will compare to the erotic nature presented to you at the Desire Resort & Spa - Cancun, Mexico!
Desire Resort Cancun Rooms & Suites
Within our intimate, village-style setting, Desire Resort & Spa offers you luxurious accommodations that set among lush landscaping, open to the breathtaking foliage or the white sands of our clothing optional beach.
Specializing in exclusive lodging for couples, Desire Resort & Spa provides a sense of total indulgence like no other, allowing for you to renew your passion, live your fantasies and fulfill your desires.
For maximum delight, Desire's exclusive Passion Suites seduce you and your partner to relax together in your private, 4-person en-suite jacuzzi in a sensual interlude to the sounds of the waves of the sea.
We can request rooms for you but can not guarantee them. You have a better chance of requesting a building. Click Here to view a map of the resort.
Standard Room - 15 Rooms
---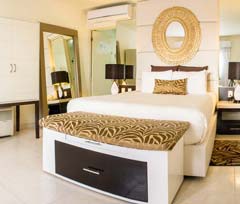 Room amenities include:
King or Queen beds
Head boards with luxurious accents
Vanity armoire
Air conditioning (Individual climate control)
LCD screen TV
Satellite TV, with interactive menu, In-Room Movies
Telephone
Safe
Bathroom with shower and glass shower doors
Coffee maker
Hair dryer
Balcony or terrace
Bathrobes and slippers
Iron and board
In-room bar stocked with: water, beer & soft drinks
CD player/alarm clock
Deluxe - 52 Garden View / 31 Ocean View
---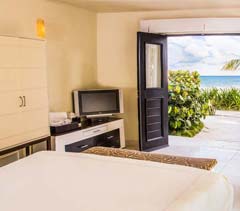 Room amenities include:
King or Queen beds
Head boards with luxurious accents
Vanity armoire
Air conditioning (Individual climate control)
LCD screen TV
Satellite TV, with interactive menu, In-Room Movies
Telephone
Safe
Bathroom with shower and glass shower doors
Coffee maker
Hair dryer
Balcony or terrace
Bathrobes and slippers
Iron and board
In-room bar stocked with: water, beer & soft drinks
CD player/alarm clock
Junior Suites - 2 Garden View / 4 Ocean View
---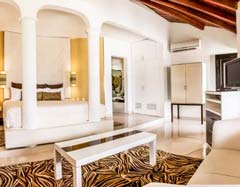 Appointed with those many amenities as the Deluxe Rooms, the Junior Suites feature plus
King-size beds with plush, decorative pillows.
Spacious bathroom with 4-person Jacuzzi.
Welcome bottle of sparkling wine.
In-house use of bathrobes and slippers.
CD and DVD player.
Variety of sensual and exotic candles.
Tantra essential gift box.
Desire incense.
Daily afternoon Hors d'oeuvres.
Welcome Fruit Basket upon arrival refreshed daily.
Passion Suite - 10 Ocean Front Suites
---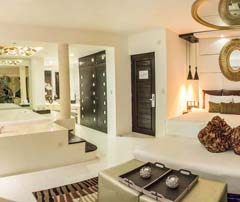 Appointed with those many amenities as the Superior Rooms, the Passion Suites feature plus:
King-size bed with plush decorative pillows.
Adjacent Living Room.
Daily Continental Breakfast.
Daily afternoon hors d'oeuvres with sparkling Wine.
Welcome Fruit Basket, refreshed daily.
Music and soft lighting upon arrival
Room Service at no cost.
CD Player and DVD
Spacious bathroom with 4-person Jacuzzi.
In-room Mini-bar stocked with: Tequila: 1800 and Herradura, Whiskey: Chivas Regal, Jack Daniels and Black Label. Vodka Smirnoff and Kahlua. Also 3 bottles of water, 2 beers XX Lager, 2 Diet Coke and 2 regular cokes.
Tantra Essential gift box
Desire incense
Private, round-trip transportation between the airport and Desire Resort.
Concierge check-in upon arrival (subject to availability).
Unlimited reservations for a table for 4 at the gourmet restaurants
Beach towels available in-room
Rates
---
Standard Room
$417.64 USD
Dec 25, 2014
May 1, 2014
$694.00 USD
Jan 1, 2015
Dec 26, 2014
$514.00 USD
Jan 31, 2015
Jan 2, 2015
$586.00 USD
Apr 30, 2015
Feb 1, 2015
$432.00 USD
Dec 25, 2015
May 1, 2015
$694.00 USD
Jan 2, 2016
Dec 26, 2015
Deluxe Garden View
$523.64 USD
Dec 25, 2014
May 1, 2014
$770.00 USD
Jan 1, 2015
Dec 26, 2014
$644.00 USD
Apr 30, 2015
Jan 2, 2015
$540.00 USD
Dec 25, 2015
May 1, 2015
$770.00 USD
Jan 2, 2016
Dec 26, 2015
Deluxe Ocean View
$583.00 USD
Dec 25, 2014
May 1, 2014
$834.00 USD
Jan 1, 2015
Dec 26, 2014
$714.00 USD
Apr 30, 2015
Jan 2, 2015
$602.00 USD
Dec 25, 2015
May 1, 2015
$834.00 USD
Jan 2, 2016
Dec 26, 2015
Jacuzzi Garden View Suite
$636.00 USD
Dec 25, 2014
May 1, 2014
$954.00 USD
Jan 1, 2015
Dec 26, 2014
$750.00 USD
Apr 30, 2015
Jan 2, 2015
$656.00 USD
Dec 25, 2015
May 1, 2015
$954.00 USD
Jan 2, 2016
Dec 26, 2015
Jacuzzi Ocean View Suite
$702.00 USD
Dec 25, 2014
May 1, 2014
$1062.00 USD
Jan 1, 2015
Dec 26, 2014
$852.00 USD
Apr 30, 2015
Jan 2, 2015
$724.00 USD
Dec 25, 2015
May 1, 2015
$1062.00 USD
Jan 2, 2016
Dec 26, 2015
Passion Suite
$934.92 USD
Dec 25, 2014
May 1, 2014
$1290.00 USD
Jan 1, 2015
Dec 26, 2014
$1114.00 USD
Apr 30, 2015
Jan 2, 2015
$964.00 USD
Dec 25, 2015
May 1, 2015
$1290.00 USD
Jan 2, 2016
Dec 26, 2015
Desire Resort Cancun Dining
EL ARRECIFE

El Arrecife is an exciting restaurant of a contemporary décor where seductive music is played, varying with the different, special theme nights. El Arrecife is open everyday offering sumptuous breakfast buffets from 7:00 am until 11:00 am. And themed dinners are held from 6:30 pm until 10:00 pm.

DINNER Sumptuous buffet.
Dress code: Casual.
Reservations not required.

OUR DINNER THEME NIGHTS:




SUNDAY

Italian á la carte menu. If the weather permits, it will be set-up at the Tentazione restaurant by the pool.

MONDAY

International. Mediterranean specialties: the perfect fusion among Spanish, French and Italian gourmet specialties.

TUESDAY

Asian delights galore. Select from a variety of hot and cold Asian dishes prepared for this buffet night. Enjoy succulent dishes that will range from Chicken Yaki Tori Salad, Bok Choi, Nigiris, Sashimis and a large assortment of Sushi to Shark Fin Soup, Chinese Duck and Chicken Satai with Oyster Sauce. We ensure you'll feel transported into the other side of the world.

WEDNESDAY

Mexican Fiesta. The real and traditional Mexican food presented in a typical fiesta atmosphere. And of course, choose among all of our hot sauces, we dare you to try them.

THURSDAY

Italian Buffet. A deep appreciation for the Italian cuisine has inspired our chef to create an array of true delights that will make dinner a superb experience.

FRIDAY

Gala. Dress your best for this culinary feast. A sophisticated array of our chef's finest dishes will delight your senses.

SATURDAY

Steak Night. Try our New York steaks, Tenderloin, Flank Steak, Pork or Lamb Chops and Chicken prepared in any specific way you like.

IL PIACERE

At Il Piacere, enjoy the most fascinating specialties from every corner of the world and experience the real flavors of paradise. Waiters will always be at your disposition for any special crave you may have.

The soft lighting will transport you to far lands and submerge you in romance, intensifying your sensual culinary experience. Experience the romantic ambience of our lounge bar where you can try our high quality liquors (extra charge). The wine cava for your delight displays a selected variety of the most exclusive wine sorts there are around the world.

Il Piacere is open from 6:00 p.m. until 10:00 p.m. Although Desire is a clothing optional resort, this restaurant has a casual-elegant dress code. No reservations required.

Haute cuisine dedicated to International specialties served in a trendy, minimalist-chic setting, chefs tasting menu available (extra $) Soft music and lighting will submerge you in romance, heightening a sensual culinary experience.

Dinner: 6:00 pm - 10:00 pm.
Dress code: Elegant.

TENTAZIONE

Enjoy a full lunch menu including salads, ceviches and top notch main dishes with the quality, portions and presentation reminiscent of Desire's three specialty restaurants. This casual, central location near the main pool is ideal for those wanting to see and be seen. Also open for dinner on selected nights.

This restaurant is an excellent option for those who don't want to miss anything or anybody on the pool or the beach while having an exuberant lunch, or just a simple snack. It offers a perfect place to enjoy the best of what Desire resort has to offer: an exciting pool, an incredibly beautiful beach, beverages, top class food, and hot bodies under the golden and shinny Caribbean sun.

After having a snack, you can have a drink at the Tentazione's bar, which is just besides the restaurant. Tentazione is open everyday from 11:00 a.m. until 6:00 p.m. for your delight. Room service is available during operating hours.

SUKI

Suki is a luxurious journey into the Asian tastes and fashion. Inviting shades of red, white and dark chocolate contrast with the padded wall that offers white lights while an original ceiling, shaped as a wave, adds to the sophisticated décor providing the perfect setting for a stylish dinner.

Suki restaurant also serves you high quality wine and of course, the traditional liquor "Sake" Plum Dew for an authentic Asian tour of flavor.

Enjoy the most unique dinner with a large group or in a more intimate occasion for two. You can choose either to sit on tables or in one of the two four seated sushi bars, where it is possible to admire the Tepanyaki chef do his work while he teaches you and your party small techniques, words or games of the Asian gastronomy.

This sensual dining venue of Desire Resort can only be called unique. Asian delights and daily main course specials include the freshest Sushi, tastiest Tepanyaki and most savory desserts, presented in a both intimate and mystical atmosphere.

Dinner: 6:30 pm - 10:30 pm.
Reservation required only for Tepanyaki.
Dress code: Elegant.

ROOM SERVICE

Enjoy Desire's deliciously complete room service menus from the privacy of your own room 24 hours a day. Snuggle up for breakfast in bed, have a leisurely lunch in the late afternoon or simply plan for a romantic night in with your favorite guest. (additional fees may apply)

For jacuzzi suite and passion suite 24 hours room service included.

* The operation days will vary according to the weather conditions.

ROMANTIC DINNER BY THE SEA

Make your reservations for a superb gourmet candlelight dinner served on the beach under our palapa. Enjoy the sounds of the surf and see the stars during this memorable experience. (additional fees may apply)
Desire Resort Cancun FAQ's
EXACTLY WHAT DOES "CLOTHING-OPTIONAL" MEAN?

If you choose to go topless or naked- in the pool, at the beach or at the roof-top Jacuzzi Lounge, you may certainly do so. But there is never any pressure for you, or any guest, to do anything you might find uncomfortable. Our guests are mature and sophisticated; a "live and let live" philosophy is key to the enjoyment of an alternative lifestyle.

Cover-ups, however, are required where food is served, in the lobby and certain other public areas. And although guests are expected to be fully dressed at the Disco, this does not mean that they cannot wear revealing outfits; on the contrary, we are very open to SEXY. The couples-only SIN ROOM, adjoining the Nightclub, is available to our guests who may want to explore alternative-lifestyle options.

IS THERE A SIN ROOM ETIQUETTE?

Desire Resort & Spa is firmly committed to maintaining a unique, couples only atmosphere, this way, only couples are allowed. Our hottest spots, such as the Sin Room and the Jacuzzi Lounge are not exceptions.

IS SEX ALLOWED AT THE POOL OR BEACH?

No, all forms of sex are prohibited at the pool, beach and public areas of the hotel. However, Desire has designated special spots for open displays of sex, such as: the Sin Room and the Jacuzzi Lounge.

ARE DRINKS INCLUDED ONLY WITH MEALS?

No. Desire is a fully All-Inclusive resort. All drinks, cocktails and refreshments are included, 24-hours a day. We offer a wide selection of internationally known brands. For guests who prefer certain premium brands or ones that we do not ordinarily stock, a reasonable surcharge is made.

WHAT BRANDS OF DRINKS ARE INCLUDED?

Desire's All-Inclusive amenities include an inexhaustible list of all-you-can-drink beverages, including classic cocktails, tropical delights, party punches and frozen drinks with or without the buzz. Our bartenders continually add new favorites that will help you stay cool and wet your whistle.



Tequila:

Tequila El Milagro, Tequila Don Julio Blanco, Tequila Don Julio Reposado.

Rum:

Bacardi Blanco, Bacardi Limon, Appleton Blanco, Appleton Especial, Bacardi Añejo, Barcardi Solera, Ron Coco, Capitan Morgan.

Vodka:

Vodka Absolut Mandarin, Vodka Stolichnaya,Smirnoff, Wyborowa, Absolut Azul, Absolut Citron

Gin:

Beefeater, Tanqueray.

Beer:

Sol Beer, a Mexican golden lager beer with a refreshing taste and smooth, mellow flavor, first brewed in Mexico in 1899. Canned XX is available in guest rooms.

Whiskey:

Whisky J.W Etiqueta Negra Johnny Walker Red Label, J&B, Canadian Club, Chivas Regal 12 years.

Bourbon:

Jim Beam, Kentucky Gentleman.

White Wine:

Viña Maipo

Red Wine:

Viña Maipo

Rose:

Viña Maipo

Brandy:

Don Pedro, Terry Cent, Fundador.

Liquors:

Wassels Cream, Kahlua, Dry Sack, Anis Chinchon Dulce, Anis Chinchon Seco, Pernod de Anis, Licor de Melon, Dubonet, Campari, Curacao Azul, Fernet, Cassis, Martini & Rossi Vermouth.

Soft drinks:

Coke, Diet Coke, Sprite and fruit juices.

In-Room Mini-Fridge:

XX beer, Coke, Diet Coke and bottled water.

Aperitifs or After Dinner Drinks:

(Available exclusively in Il Piacere and Suki Specialty Restaurants) Licor 43, Galeano, Frangelico, Xtabentun (Mayan Liquor).

CAN GUESTS WALK NUDE IN THE HALLS?

We ask you to wear cover-ups in public areas that are not designated as clothing-optional.

ARE PHOTOGRAPHS ALLOWED AT THE RESORT?

The taking of photos is only permitted in guest rooms.

IS THE FOOD AT THE SNACK BARS INCLUDED?

Yes, all meals - snacks, buffets and gourmet dinners are included.

ARE THE NUDE AREAS OPEN TO OUTSIDERS?

No. Although all beaches in Mexico are 'public', the resort is located on a very secluded stretch of beach along the Riviera Maya.

ARE THE RESTAURANTS TOPLESS?

Although the restaurants that serve breakfast and lunch are casual and comfortable venues, men are required to wear shorts and women are required to wear a cover-up over their swimsuits. Likewise, shoes must be worn, and no wet clothes are allowed in any of the restaurants of Desire. At night, elegant resort dress is expected when dining at Il Piacere and Suki, including slacks, shirts and shoes for men, dresses or pantsuits for women.

DOES THE HOTEL HAVE ROOM SERVICE?

Yes. Desire offers 24 hour Room Service, (at an additional charge) except for Passion Suite guests.

DOES THE RESORT HAVE LAUNDRY SERVICE?

Laundry service is available at an additional charge.

IS THERE INTERNET SERVICE?

Computers with high-speed Internet service are available at additional charge, in the computer room in the Lobby area. Wireless service is available in selected areas of the property with no additional charge.

ARE DAY PASSES AVAILABLE?

Desire is a clothing optional, couples only resort where we guarantee a private and intimate vacation. Then, looking after the privacy of our guests, we do not sell any day or night passes.

IS THE RESORT FOR SWINGERS?

Guests at Desire enjoy their privacy and see their vacation here as an opportunity to be themselves; they can dress sexy, dress up for theme nights, enjoy clothing-optional areas and partake in activities at which they feel completely comfortable. DESIRE appeals to liberated, upscale vacationers, nudists and swingers. The ambiance attracts a wide variety of guests, giving the resort a wonderful mix and personality. As a general rule, guests come to Desire in order to:



Meet other like-minded couples (male & female).
Experience a spirited, fun vacation, sunbathe topless or nude.
Enjoy a resort where they have the freedom.
Do what they want.
Test the waters' of an alternative-lifestyle!

ARE WATER SPORTS INCLUDED?

Yes, non-motorized water sports are included as part of Desire's all-inclusive amenities: kayaking, sunfishing, sailing and hobie cat instructors are available for each of these activities.

IS AIRPORT TRANSFER SERVICE PROVIDED?

Round-trip transportation to and from CANCUN INTERNATIONAL AIRPORT are available.

WHAT ARE THE MOST POPULAR AMENITIES AND SERVICES AT DESIRE?

Clothing-optional beach
Clothing-optional swimming pool
Clothing-optional, multi-couple, roof-top Jacuzzi Lounge Bar
All-Inclusive gourmet dining options
Four restaurants, including a snack bar and grill
Five bars
Nightclub
Sensuous Sin Room (couples-only)
Spa with sauna, steam room and a full menu of spa treatments
Gym
Exclusive wines and liquors available
Water sports
Logo Shop
Tennis court
Wi-Fi, Internet access/computers

IS THERE A FAMILY FRIENDLY NUMBER THAT I CAN GIVE TO MY RELATIVES SO THAT THEY CONTACT ME DURING MY VACATION?

Yes, please send the following information to: Info@RightConnectionsTravel.com and we will contact you with more information and the number that can be used.

ARE ROOM REQUESTS GUARANTEED?

The resort is more than happy to take Room requests. Please note that the resort cannot guarantee any specific room number, floor or building; however we will do our best to accommodate your needs.

ARE THERE SMOKING AND NON-SMOKING AREAS IN THE HOTEL?

Smoking is only allowed in all the open areas of Desire. Y Night Club offers a terrace where smoking is allowed.
Desire Resort Cancun Activities
Daytime Activities

Our guests, at Desire Resort & Spa will enjoy a broad array of activities such as sports that take on Desire's sensual touch including yoga classes, sexy aqua fitness, water polo, basketball, nude beach, water volleyball and other beach and pool games as well as non motorized water sports.

For the more adventurous, we offer sexy wishes, sexy darts, belly dance, pole dance lessons and the famous daily "Desire Time" couples only contests, hosted by our Desire Cancun Team that will amuse, surprise and seduce you.

We also offer assistance with booking scuba diving tours and private clothing optional cruises for couples only as much as other tours to the landmarks of Yucatan Peninsula, such as Cancun, Playa del Carmen and other beautiful destinations.

Desire provides you with a calendar of activities for a more detailed guide of what to do during the day at the clothing optional premises of Desire Resort & Spa.

The entertainment program of Desire Resort & Spa Riviera Maya has been designed to provide you with fun and sensually themed adventures that every night will be led by our super friendly and enthusiastic Entertainment Team. Whether you engage in our performances or just witness them as a relaxed spectator, you'll be surely enticed by our deliciously erotic nighttime entertainment.

Sunday - Desire University

Go back to school days the most sensual way, only at Desire Resort & Spa. Have you ever dreamed of a sexy schoolgirl, taking notes of every desire that comes through your mind? Now, every Monday at our clothing optional resort in the Riviera Maya gives you the chance of fulfilling this fantasy and many others in our Naughty Desire University, the time to put on your most provocative schoolgirl and college outfits. This will be your opportunity to look your best, socialize with other guests and have a blast with our unique Couples Contest and live Rock band. Be a naughty schoolgirl or the hottest College nerd, learning the lessons not taught at school, and don't get amazed if you are punished for being so badly behaved and you like it!

Monday - Sensual Wild West

It is a night full of Country Western music and fun, we will dare you to show your skills at the Sensual Riding Cowgirl Contest to later vote for your Mr. Erotic Cowboy in the Y Disco. Come with your lover and match outfits to become the most sensual Cowgirl and handsome Cowboy of the land. Girl, let him rescue you as a damsel in distress, but don't worry about any danger, the only risk you will run tonight at our couples only resort will be to explore your limits of pleasure and desire.

Tuesday - Carnival Erotic Foam Party

Come and discover the tricks that awaken the Latin flavor in you and make your lover mad about you in the privacy of your suite or in our famous "Play Room". And as a new fantasy of Desire, our live performance will heat the place even more and liven up the atmosphere to invite you to dance, enjoy and play the night away, a promise of heat, fun and foam. Let the spicy games, playful, tropical music and soft bubbles seduce all of your senses every second of the experience. The most deliciously erotic night of all, you'll wish it will never fade away.

Wednesday - Retro Neon Party

Time to feel alive! What do you like the most of the golden years? Yes, in our Retro Neon Party, we are bringing back the color and ease of that time, of course plus the sensual twist of Desire. Put on that tiny, tight and neon outfit you have and relax, we will give you in every moment a perfect excuse to relive the fun of those days and make your lover vibrate with passion like when you first met. After a succulent dinner, join us at the Melange Bar and mingle with other guests as you enjoy the greatest hits of the naughty 70's. Then, our Y disco will be the meeting point for the Glow Girls Performance and let's continue with our Retro Neon Party so that you can dance the night away.

Thursday - Sparkling Black and White Celebration

A night to remember, to seduce and be seduced. Let your most secret fantasies be revealed in the moonlight. This will be our Sparkling Black & White Celebration that soon will become the Jewel of the Riviera. The Melange bar will be the place to dance with your significant other. Our live DJ will be playing to the most sensual rhythms from 9:00 pm to midnight, offering you the most tantalizing opportunities to end up in the arms of a stranger if you so desire. Continue with the splurge of the night at the Jacuzzi Lounge. And remember, only champagne from now on to the finale! Elegant and sophisticated, this will be a soiree full of exquisite sensuality.

Friday - Desire Costume Ball

Welcome to our great Desire Costume Ball. At our couples only resort, it is a tradition to surprise you bringing your most impossible fantasies to life and this night won't be the exception. Gents, wear the sexiest costume you can think of. Ladies, put on the attire that best matches your man's and of course don't forget to reveal enough skin so that you can become the most seductive couple of the night and win our unique Costume Contest.Sure, you can be Desire's Adam and Eve or a sexy Cleopatra with her Julius Caesar. This is the night to let your imagination run wild, feel the seduction of our sensual-fun atmosphere and live your passions to the fullest.

Saturday - Lingerie Night

That's right, Saturday night with us will give you every opportunity to feel part of the always deliciously erotic ambiance of our couples only resort. Whether you join us in your sexy choice for the occasion and participate in our lingerie fashion show, or remain a curious spectator, our Lingerie Fashion Show at the Melange Bar will delight your senses and set the perfect mood for the more alluring moments to come.The fun will continue in the Y disco with our unique Chippendale show. Yes, ladies, you know you can let go of your inhibitions and have your way with these hot men we will invite to Desire just for your delight. So see you tonight!

Please notice that our nightly entertainment program and daytime activities are subject to change.